About Herb Block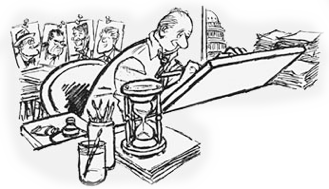 Herb Block is among the world's best known and most admired political cartoonists. Born on October 13, 1909, the native Chicagoan spent his 72-year career fighting against abuses of the powerful.
Our Commitment
The Herb Block Foundation is committed to defending the basic freedoms guaranteed all Americans, combating all forms of discrimination and prejudice and improving the conditions of the poor and underprivileged through the creation or support of charitable and educational programs with the same goals.
The Foundation is also committed to providing educational opportunity to deserving students through post-secondary education scholarships and to promoting editorial cartooning through continued research. All efforts of the Foundation shall be in keeping with the spirit of Herblock, America's great cartoonist in his life long fight against abuses by the powerful.